The Heart of the Matter, also known as the situation. Some people call card one the significator card, while others use a completely separate card to represent themselves or who they are doing the spread for. If this is done the card would be placed underneath the first card, The Heart of the Matter. This is done as a representation of the person.
This is a 10 Part series on using the Celtic Cross Tarot Spread for Tarot Journaling.
What commercial do you love the most? Which do you hate?
I love the commercial with the puppy at camp and the one for those vegetable chips with the little pink piggy that flies at the end. I hate commercials that are played so much they get annoying like the ones for those hotels with all the singing.
Dark Khaos Fae
If you are not on my list and wish to be placed on it, please fill this out. I want to know more about you.
Its only 36 questions and won't take too long. You have to post it in the comments in two parts though. 1-16 and 1-17. For the person I did it for it wouldn't post any longer than that in the comments.
Thanks.
1) Are you currently in a serious relationship?
A.

2) What was your dream growing up?
A.

3) What talent do you wish you had?
A.

4) If I bought you a drink what would it be?
A.

5) Favorite vegetable?
A.

6) What was the last book you read?
A.

7) What zodiac sign are you?
A.

8) Any Tattoos and/or Piercings? Explain where.
A.

9) Worst Habit?
A.

10) If you saw me walking down the street would you offer me a ride?
A.

11) What is your favorite sport?
A.

12) Do you have a Negative or Optimistic attitude?
A.

13) What would you do if you were stuck in an elevator with me?
A.

14) Worst thing to ever happen to you?
A.

15) Tell me one weird fact about you.
A.

16) Do you have any pets?
A.

17) What if i showed up at your house unexpectedly?
A.

18) What was your first impression of me? (hmmm...careful!)
A.

19) Do you think clowns are cute or scary?
A.

20) If you could change one thing about how you look, what would it be?
A.

21) Would you be my crime partner or my conscience?
A.

22) What color eyes do you have?
A.

23) Ever been arrested?
A.

24) Bottle or can soda?
A.

25) If you won $10,000 today, what would you do with it?
A.

27) What's your favorite place to hang at?
A.

28) Do you believe in ghosts?
A.

29) Favorite thing to do in your spare time?
A.

30) Do you swear a lot?
A.

31) Biggest pet peeve?
A.

32) In one word, how would you describe yourself?
A.

33) Do you believe in/appreciate romance?
A.

35) Do you believe in God?
A.

36) Will you repost this so I can fill it out and do the same for you?
A.
If you are on my list, please fill this out. I want to know you better.
Current Location:

84111

Current Mood:

awake

Current Music:

Apocalyptica




I figure that everyone needs to know about this site especially if someone you know has diabetes or possibly could have it.

Dark Khaos Fae
Current Location:

SLC

Current Mood:

artistic
Where do you think you'll be in ten years?
Probably still in school because I'm working on my bachelor's degree right now (anticipated graduation date in May 2011). Then, I'm going for my Master's degree and then, we'll see if I get my Ph.D or not. I probably will because my major is in psychology. Though I need to get through everything with my medical issues. It sucks.
Current Location:

SLC

Current Mood:

frustrated
What does winter mean to you?
A pain in the ass is what winter is. Live in Utah by the mountains and all you see is snow and feel cold weather. Its so cold that my husband and I have to bundle up to take the dog out. Sucks major ass.
Current Location:

SLC UT

Current Mood:

anxious

Current Music:

None
What inspires you to write?
Things that inspire me to write are things that happen in my life or things that I see. These things are the one thing that inspire me to write in my blog. Day to day events can be the most interesting because a lot of the times things are not like everyone else's so you're not going with the norm of things. The blog is your own when you write about things like I do.
Dark Khaos Fae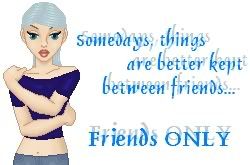 If you want to be my friend please let me know by adding a comment to this post. The only comments that are not friends only are the beginning ones and short stories that I post. Blessed Be! Dark Khaos Fae
Current Location:

SLC UT-Home

Current Music:

Sixx AM-Life Is Beautiful

It sends you spinning
You have no choice...

Amelia de Sailunne knew only one thing: she was lost. She ran along a dark corridor, her fingers trailing lightly over cold dark stone, her gauzy white dress billowing out behind her like vapor. Her feet were bare and padded along the icy floor in a muffled rhythm as she continued her solitary race. The only thing she could remember was falling asleep in her soft, warm, supposedly safe bed and hearing the low murmur of someone whispering to her...

You hear laughter, crackling through the walls
It send you spinning
You have no choice...

A delightful chuckle seemed to ripple through the very walls upon her fingers traced a light path and she jerked them away as if scaled. Her blue eyes widened as she looked around, trying to locate the source of the laughter. There was none. The chuckles seemed to be coming from nowhere at all. Amelia closed her eyes and shook her head, feeling the room slip and turn in a greasy, nauseating swirl as she did so. She placed one shapely hand to her forehead, her brow furrowing. Then she heard an amazing crack as the laughter peaked and died off; and she opened her lids to let her eyes dark about. She spotted a fissure in the stone wall from which she was pouring down a strange shifting light. As wary as a doe she stepped through the crack and emerged in another room.

Following the footsteps of a rag doll dance
We are entranced
Spellbound

Amelia stopped on the dance floor and when the music began to play from no earthly source she let her body follow it without thought, with a kind of supple grace that even she had not suspected she had. The music snaked through her mind and caught her like barbed wire, leading her feet and hands, body and soul. Amelia was only barely aware of her feet still moving, so swept up was she in the dance.

And dont forget when elders forget
To say their prayers
Take them by the legs
And throw the down the stairs

The mighty bellow as the massive body fell over and over, limbs thudding against plush carpet until there was a sickening cracking noise. Amelia stood at the top of the stairwell, her eyes dull and distant, feet shuffling minutely, aching to dance again. She looked down at the body sprawled in to an unnatural position at the foot of the stairs, looking at it with nothing more than mild interest. Then, the calm bubble that had laid over her popped abruptly and her eyes stared from their sockets. "FATHER!!!" she screamed in anguish. Guilt swept over her in black waves as she continued to shriek down at the lifeless corpse of her father. She had pushed him, and she didn't even know why. Then the haze descended again.

When you think your toys have gone berserk
Its an illusion
You cannot shierk
You hear laughter, crackling through the walls
It sends you spinning
You have no choice....

Amelia was running again tears spilling over her lashes to stream down her checks. Her breath came in great tearing gasps as she ran blindly down the stone hallways again, her dress flying behind her like a shroud come undone. The tears burned but did not relieve any of the guilt and misery she felt. She kept praying it had been some sort of awful mistake; she couldn't have killed her father, just couldn't! But the truth refused to be ignored, and sat upon her conscience like a grinning skeleton devoid of skin and masks. As she fled the merry, insane chuckles pressed in on every side of her, threatening to drive her mad. She clapped her hands to her ears whirling around and around as she tried to follow the laughter until she simply collapsed backwards into a blood red fissure that had opened silently behind her.

Following the footsteps of a rag doll dance
We are entranced
Spellbound!


Do not take what is yours. Please leave your comments. All are appreciated.
From the cradle bars comes a beckoning voice
Current Location:

SLC UT-Home

Current Mood:

creative

Current Music:

Avenged Sevenfold-Almost Easy